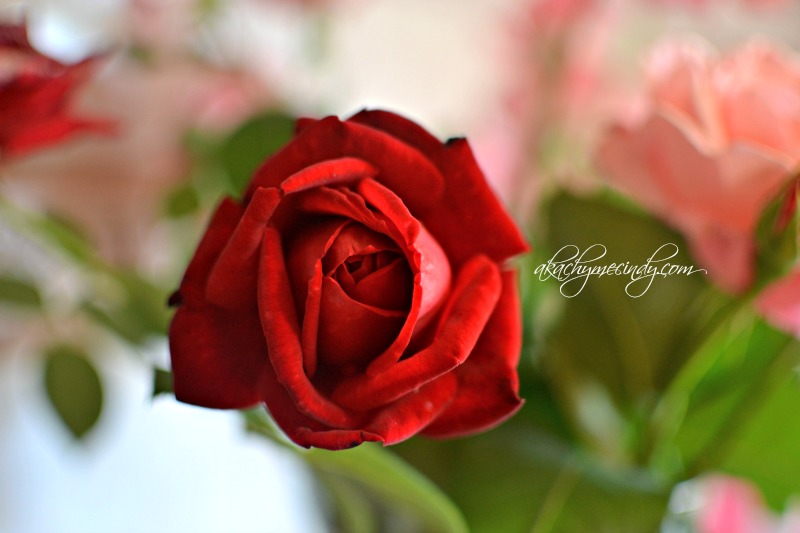 I really like that the roses in the garden are now in full bloom. It's just sad that soon when the weather gets colder these roses won't stay alive as what they have now. But I am not going to think about that now. What matters is that I love to see them produced a lot of beautiful flowers. They added colors in the yard. I really like pink and red roses. Despite the crazy weather these roses made it to bloom and survive. Yesterday, I decided to picked few of these roses and put them on a vase. Somehow, they made me smile in an instant.
It's been a while since I take this kind of photos. When I was doing my project 365 last year I always took nature photos such as flowers and little things. I love photography as much as I love eating and baking. Sometimes the lack of gear discourages me. For example, I really want a 50mm lens and a macro lens, however I am not sure if those things are worth to buy. But I know I will use them and would love using them. I don't know what genre of photography I really like and capable of doing. But I love exploring and doing lots of practice. I love portrait, macro and nature photography. I am not a professional in any means, but I am willing to learn. I am also thinking of maybe enrolling an online photography class and invest on a professional camera. It's just not my priority right now! And so I will just be happy with what I have and will use it as I learn through! Okay, I am so into this right now because I've discovered 500px which I joined here. And, of course I am so over inspired now in photography.
Anyway, I hope you like these roses I captured from our garden. I am also hoping that they will survive in the coming winter. I would love to see them again bloom next summer. Last winter was terrible, some of the roses especially the yellow ones died and didn't survive. I was sad because in fairness they aren't cheap to buy ha ha :)! So, fingers crossed they will survive and still alive until next summer.
Enjoy the roses in the garden photos. Happy Sunday lovelies!